In 1951, as war clouds loomed in the Far East, the RCAF was given permission to reactivate some former units as auxiliary units. This was done to train reserve forces to supplement the RCAF in the event it had to be brought up to wartime strength. As a result, No. 443 Squadron was reformed on September, 1951, at Vancouver, B.C. Wing Commander R. B. Barker, DFC, was appointed the Commanding Officer. Its purpose was to provide personnel trained in the fighter role to bring the RCAF up to wartime strength, if the need arose.

To ensure a strong nucleus of trained aircrew and ground crew, a large number of personnel were reallotted from the already existing 442 Squadron (Auxiliary). The unit was based at RCAF Station Sea Island along with 442 Squadron. However, the headquarters for the squadron was located at 1021 W. Hastings Street in Vancouver. The unit held weekly lectures on various topics related to this role, as well as performing proficiency flights in its Harvard and Mustang aircraft. 443 Squadron participated in many air defence exercises each year, as well as a "summer camp" when the whole squadron would deploy to another airfield to partake in exercises and drills.

Many of the RCAF squadrons made a close tie with a community with which they were associated. As a result, the squadron often incorporated the name of the community in its own name. This was true of the association of No. 443 Squadron and the nearby City of New Westminster, B.C. The squadron applied for and on September 3, 1952, received, permission to alter its name to "443 City of New Westminster Fighter Squadron (Auxiliary) RCAF." This close affiliation was to last until the squadron was disbanded in 1964.

In December 1954, the squadron moved from 19 Wing Headquarters on West Hastings Street to the airfield at Sea Island. This move permitted the squadron closer liaison with Regular and Support units and centralized their activities. In February 1955, the squadron received a most distinguished guest; Douglas Bader, DSO, DFC, and one of World War II's most famous fighter pilots, visited the unit and chatted with the personnel of the squadron, a most memorable occasion to many of the squadron officers.

By mid-1955, 443 (F) Squadron had acquired two T-33 jet trainers as well as a jet aircraft simulator, and a jet refresher program was initiated. Training and proficiency flights were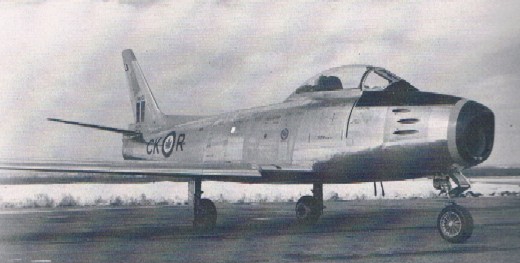 carried out, but squadron personnel were unnerved at the rumours that the unit would be disbanded following the end of the conflict in Korea. However, these fears were dispelled when it was learned the squadron was to be reequipped with the F-86 Sabre fighter, which had distinguished itself so well in Korea. The first aircraft arrived on October 31, 1956, and a formal but rain-shortened parade was held to mark the event.
W/C Barker relinquished command of the unit on August 31 and S/L R. O. Hetherington, who had joined 443 Squadron in 1951, was promoted to Wing Commander and became the new Commanding Officer.
Life continued, as usual, with many lectures, proficiency flights, exercises and the occasional airshow for such events as Air Force Day and the Pacific National Exhibition. In July 1957, the squadron deployed to RCAF Station Comox on Vancouver Island for summer camp. Although the squadron was operating a relatively new aircraft, serviceability remained high (60%) and the target of 300 flying hours was reached without mishap. By the end of November, 12 pilots were qualified on the Sabre.
On August 31, 1958, W/C Hetherington turned the unit over to A/W/C J. D. Fisher.
At this time the unit went through a major reorganization. In accordance with a decision to assign a new role to RCAF Auxiliary squadrons, it became necessary to re-equip the Auxiliary squadrons and revise the RCAF Auxiliary organization. The squadron was redesignated 443 Squadron (Auxiliary) and was re-equipped initially with the C-45 Expeditor aircraft. On September 1, 1958, 443 Squadron (Auxiliary) assumed its new role which was to carry out air operations in support of military and civilian requirements as determined by higher authority. Translated, this meant aid to civil defence following a nuclear attack (a fear which was very predominant in those days). As well, there was to be a secondary role of air search and transport.
As a result of the change, the squadron had to train its personnel on the new aircraft and its new role. By May 1959, all pilots were qualified on the new aircraft. Squadron routine remained the same with weekly lectures, weekend flying and periodic deployments on exercise.
It had been planned to equip the squadron with helicopters as well as the (Expeditors). However, this did not happen and in 1960 personnel began conversion to the Otter aircraft. This was to enhance the squadron's search and rescue capability. As is often the case in peacetime, the squadron spent much of its time on its secondary role - search and rescue. Many searches were conducted, mostly for lost aircraft or hunters.
August 31, 1961, saw W/C Fisher turn the squadron over to W/C C. O. P. Smith, DFC, CD. Operations continued as in the past until December 1963 when it was decided that, due to changing policy, the squadron was to be disbanded. The disbandment did not take place until March 31, 1964, when, after a parade, 443 Squadron was no more.